Metaphysical Properties of Rosebuds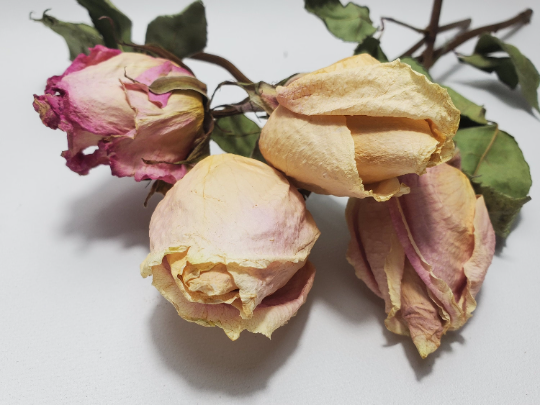 Official Name: Rosa spp.
Gender: Feminine
Planet: Venus
Element: Water
Deities: Hathor, Hulda, Eros, Cupid, Demeter, Isis, Adonis, Harpocrates, Aurora
Metaphysical Uses: Love, Psychic Powers, Healing, Love Divination, Luck, Protection
Common Magical Uses of Rosebud
Used in love mixtures and love magic, tea and drunk before bedtime induces prophetic dreams.
They are used in healing spells. Planted in the garden, they will attract fairies.
Rosebuds are natural and have been dehydrated. These can be used for various things from; arts and crafts to hobbies, as offerings in rituals or ceremonies, as home décor, as potpourri, to name a few.
These rosebuds are white roses with pink tips on the petals. Color may vary due to the variations of the rosebud itself.
Pink represents honor, morality, friendships, emotional love, social ability, goodwill, caring, healing emotions, peace, affection, nurturing, romance, partnership.
Purple represents power, spirit, spiritual development, intuition, ambition, healing, wisdom, progress, business, spirit communication, protection, occultism, self-assurance, influence higher-ups.
White represents the Lady and the Lord together (ritual candle), Full Moon Magics, purity, protection, truth, meditation, peace, sincerity, justice, ward off doubt/fear.