Copper Offering Bowl with Dragon Decoration
This Copper Offering Bowl with a dragon decoration is an attractive option for offerings to deities, fae, and other entities. It is a small 3" wide 1.5' deep copper offering bowl that allows for just the right amount of herbs, mead, or other offerings.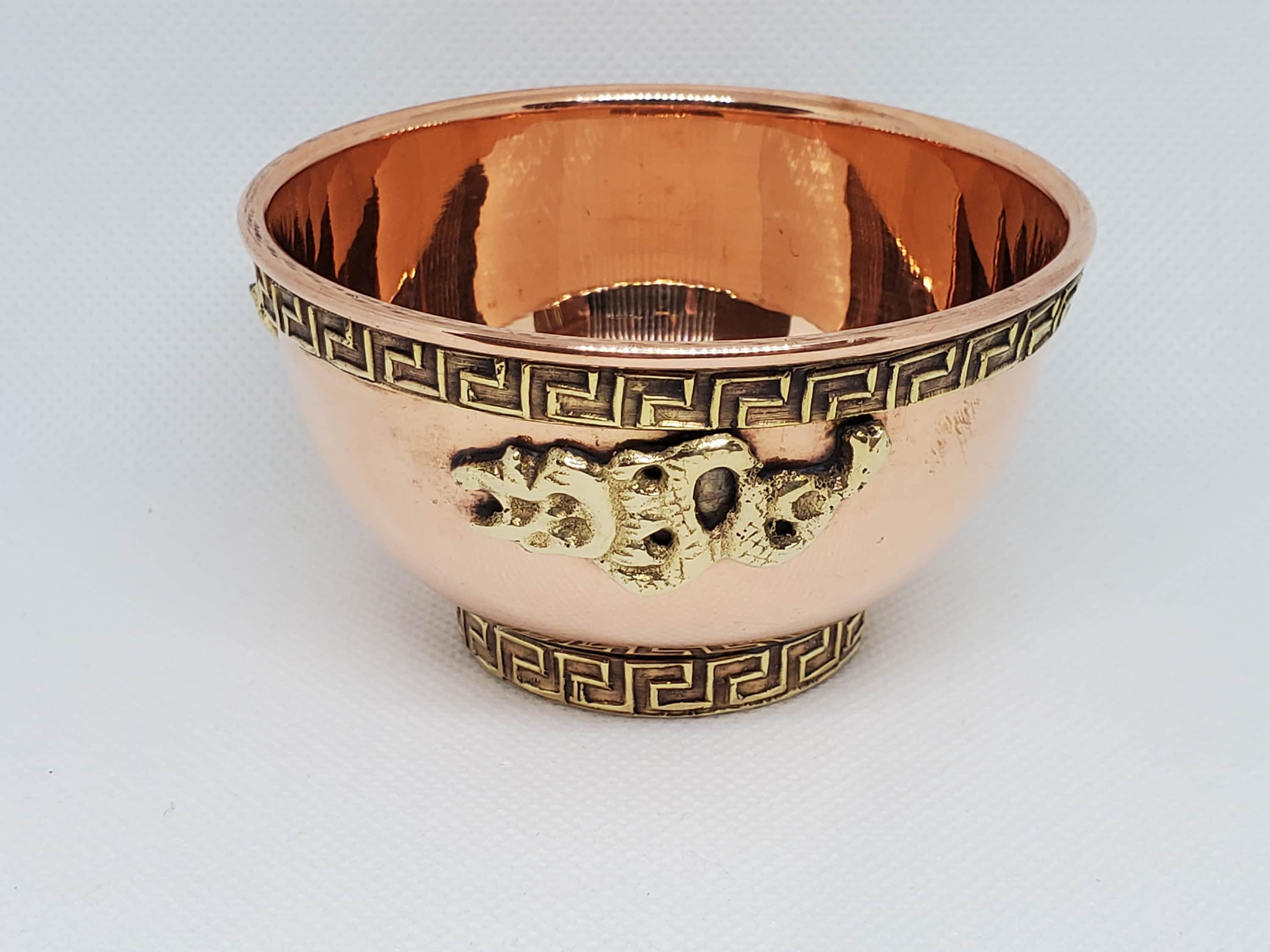 The dragon symbolizes supernatural power, wisdom, strength, and hidden knowledge. In most traditions, it is the embodiment of chaos and untamed nature. The dragon is one of the most powerful totems. Dragon has various qualities, emotions, and traits, giving it several different meanings. It often carries a reminder of strength, courage, and fortitude. Dragons are messengers of balance and magic. If the dragon has arrived in your life, it asks that you tap into your psychic nature and allow yourself to view the world through the eyes of wonder and mystery.
Metaphysical Properties of Copper offering bowl
Energy: Receptive
Planet: Venus
Element: Water
Deities: Aphrodite, Astarte, Ishtar
Associated Stones: Quartz Crystal, Emerald
Associated Herb: Mimosa
Metaphysical Powers: Energy Direction, Healing, Luck, Love, Protection, Money
Copper Magickal Lore & Uses
It has long been linked to the divine. It was attributed to the Queen of Heaven and goddesses associated with Venus during ancient Mesopotamian times.

Copper is a well-known conductor of electricity. One modern use of this metal is to create a wand out of copper tubes. They are topped with quartz crystals and sometimes wrapped with leather or shielding substances. Copper wands are used to direct energy during magical rituals.

Copper can balance the body's polarity and is therefore great for healing.

To be most effective for healing, copper is worn on the left side of the body of someone who is right-handed and vice versa for left-handed people.
Copper stimulates the energy flow and enhances psychic abilities. It'sIt's an energy conductor that moves energies and amplifies thoughts. It aids in channeling and in communicating with higher-dimensional beings. Copper grounds and moves vibrational frequencies from the spiritual realm to the physical realm.
Copper is the third most plentiful mineral found in the human body. The liver and the human brain contain the most significant amount of copper.
Copper is a conductor of energy and pulls higher vibrations into the physical body. It balances meridians and chakras and may aid with arthritic conditions. It offers support for red blood cells. It enhances the energy of any mineral or crystal it is paired with. Copper helps aid circulation, blood disorders, metabolism, and promotes balance and communication.
Copper is used as one of the core pieces for many healing wands because it can conduct and focus energy from upper realms. According to myths, copper could conduct spiritual energy back and forth between individuals, crystals, auras, the mind, and the spirit world. Copper has the power to amplify thoughts when sending and receiving psychic communications.
Copper offering bowl