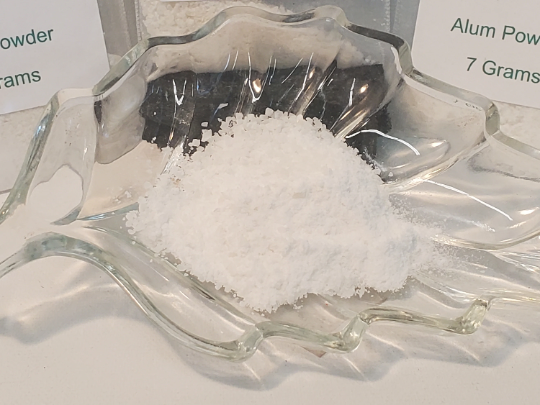 Magical Properties of Alum Powder (Alunite)
Alum Powder has been used for centuries in many cultures. It can remove the evil eye and help bring prosperity, happiness, and positive energy to your house or office.
Alum (Alunite) is blessed with a unique magical power that can balance energies at all levels and harmonize the inner world and the atmosphere in the house. The stone has long been called the "philosophical" "angel's wing," believing that with its help, one can gain wisdom, emotional balance, and protection from the negative. The stone helps the master return from the world of dreams to reality. For girls, he acts as a loyal assistant searching for a groom, and he helps men in his career. Alum is an effective amulet that will protect the house from quarrels and misunderstandings, the evil eye, and damage. The stone is placed in a corner to distribute its energy throughout the room evenly. Alum is a loyal assistant for motorists, so the driver must take the crystal with him when you go on a journey. It will protect not only from fatal accidents but also from fellow travelers with improper intentions.
Alunite as a Stone Deodorant
Alunite crystals have an effective deodorizing property, so they are used as natural antiperspirants. The action of the salt stone is not to block sweat but to neutralize harmful microorganisms that cause an unpleasant odor. In addition, the crystal deodorant has other beneficial advantages: The natural origin, as well as the absence of preservatives and emulsifiers, allow the use of the crystal for pregnant and lactating women, allergies, without danger to health; The stone has no smell so that it can be used in combination with perfume; In the composition of the crystal, there are no essential oils, when used on clothes there are no traces; It is a universal hygienic product that is used for cuts, insect bites, after shaving and when carrying out cosmetic procedures; Crystal deodorant is economical: one small stone lasts for several years of constant use. To use as a deodorant: Moisten a stone to wipe problem areas. Some attribute the disadvantages of deodorant to the need for its frequent use, but its use does not require special preparation, and a small crystal will not take up much space in a purse. Alunite crystals belong to soft and brittle minerals, breaking when mechanically applied or falling on the floor. This minor drawback can be an advantage by using stone crumbs or as a powder for the feet. You can also make a deodorant spray from the fragments by putting the crystals in a water bottle. 
Other Uses of Alum Powder
purification of drinking water as a chemical flocculant
in styptic pencil to stop bleeding from minor cuts
the adjuvant in vaccines ( a chemical that enhances the immune response)
deodorant "rock"
pickling agent to help keep pickles crisp
flame retardant