Tree of Life Box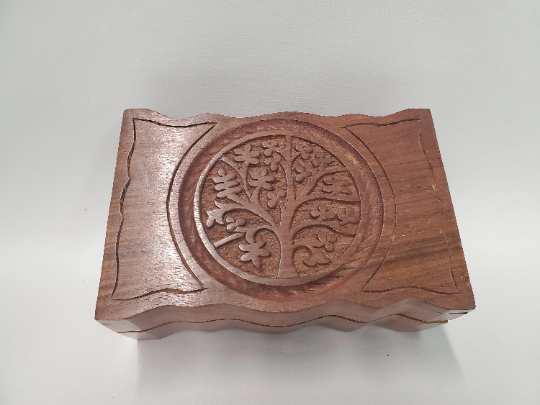 This Tree of Life Box is a beautiful handcrafted wooden box. It is 4-inches by 6-inches which is the perfect size for a standard tarot deck. 
The Tree of Life represents personal development, uniqueness, growth and individual beauty. Just like the branches of a tree strengthen and grow upwards to the sky, the energy will grow stronger, striving for higher knowledge, wisdom and experiences as life goes on. We to strive for higher knowledge, wisdom and experiences. 
Some ways to use this Wooden Box 
Jewelry Storage
Tarot Deck
Trinkets
Stones & Crystals
Herbs
Pictures
Chime Candles 
This Tree of Life Box beautiful wooden box, is 4-inches by 6-inches.  The Tree of Life Box was handcrafted in India and features a hand-carved tree of life design in a circle on the top.  The sides of the box are scalloped making it a very unique and beautiful wooden box. 
It is a perfect place for storing Runes, oracle Cards, as well as Herbs and other small items. Great little stash box for all the presious keepsakes.
The box is crafted out of mango wood which has a density and strength that can be compared to Oak and Ash.This Tree of Life box needs a monthly polish and hydration to avoid cracks.This hand-carved Tree of Life design is a great crystal keepsake box, for tables, or nightstands. Built with natural wood & a stained finish to be atractive as well as functional. This box may have natural blemishes or slight variations. Also, due to the natural wood, it may vary in color and grain. These are not considered flaws but add character for a unique design.
These wooden boxes can also be used as a small traveling alter. Store items inside that are needed for spell or ritual work to take on the go. Tree of Life Box  will be a great gift for someone special or a much needed special treasure.