Track Your Daily One Card Tarot Draws With This Beautiful Daily Tarot Journal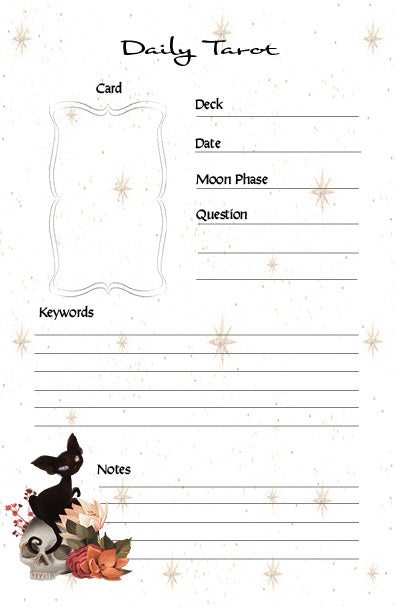 Each undated page in the Witches Daily Tarot Journal has:
8 Black binding discs
Clear front and back plastic cover
Printed front and back cover made of cardstock
90 undated pages
90 notes pages
20 additional notes pages (10 sheets)
As your Journal expands, you can change the discs to bigger sizes to add more pages.
Refills are available in quantities of 30 days for $10
Note page refills available of 20 pages (10 sheets) for $8
90-Day Journals are $45
Each page is printed on high-quality 27lb or better paper (Depending on what is available from my vendor.)
Each page is printed on high-quality 28 to 32 lb. writing paper with a cardstock front and back cover and a hard transparent plastic overlay on the front and back.  Each daily tarot Journal uses the disc-bound system, so you can add pages and move pages around quickly!  As your Journal fills up and you start to run out of pages, you have the option to order refill pages.  
These journals are produced by one of our employees in-house.  Since these are printed at the time of order, it may take a little longer to receive your Journal.
Dig out your favorite pen and start recording your cards in this beautiful daily tarot journal!