Rose stem and leaf are ground into a powder. They have been dried naturally then ground. Rose stem and leaf can use in rituals, ceremonies, and offerings where the color green or an element of earth is needed.

Rose stem and leaf powder can symbolize nurturing, strength, protection, and life, as the stem brings the rose.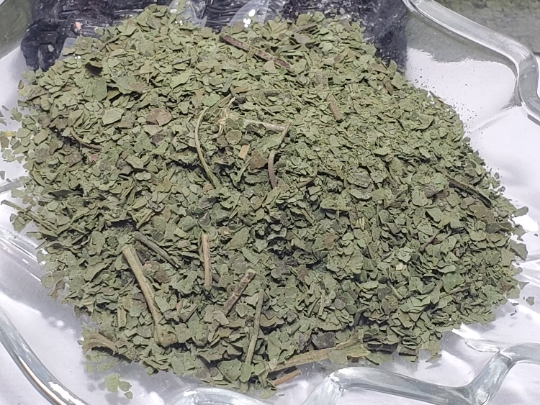 Metaphysical Properties of Rose Stem and Leaf 
Official Name: Rosa spp.
Gender: Feminine
Planet: Venus
Element: Water
Deities: Hathor, Hulda, Eros, Cupid, Demeter, Isis, Adonis, Harpocrates, Aurora
Metaphysical Uses: Love, Psychic Powers, Healing, Love Divination, Luck, Protection
Common Magical Uses of Rose Stems and Leaf
Used in love mixtures and love magic, tea, and drunk before bedtime induces prophetic dreams.
They are used in healing spells.
Planted in the garden, they will attract faries.