Metaphysical Properties Of Black Sardonyx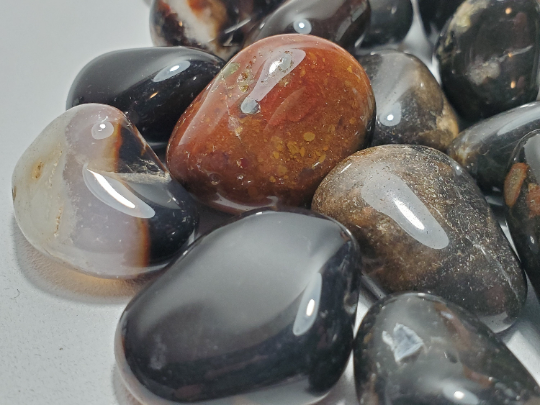 Chakras: Root Chakra
Zodiac: Aries, Leo
Vibration Number: Number 3
Typical Colors: Orange, Red, Black, White
Metaphysical Properties: Strength, Love & Relationships, Communication, Protection
Black Sardonyx is an excellent stone of protection and strength; it promotes virtuous conduct and integrity. Sardonyx attracts friends and good fortune, lasting happiness, and stability to partnerships. Black Sardonyx increases stamina, vigor, and self-control.
The word Sardonyx comes from the Greek, sard meaning "reddish-brown," and onyx meaning "veined gem." The best stones are found in India. They are also found in Germany, Czechoslovakia, Brazil, and Uruguay. They can be in the United States, the Lake Superior region, and Oregon.
Black Sardonyx can be traced back four thousand years to Ancient Egypt. Since ancient times, Sardonyx has been associated with courage, happiness, and clear communication.
To clean Black Sardonyx, use warm soapy water and a soft brush. Even though it is a harder stone, Black Sardonyx can still be scratched or damaged by gemstones with a higher hardness. This stone can be sensitive to heat, and prolonged exposure to sunlight can fade the color—store black Sardonyx in a fabric-lined box or wrap in a soft cloth.