Cast Iron Cauldron Custom Painted Mini
We have been replacing the old style with a new style of cast iron cauldron so once we have sold out of the old one you will see a new style and whatnot on the pic currently I will get a current pic of the new style soon.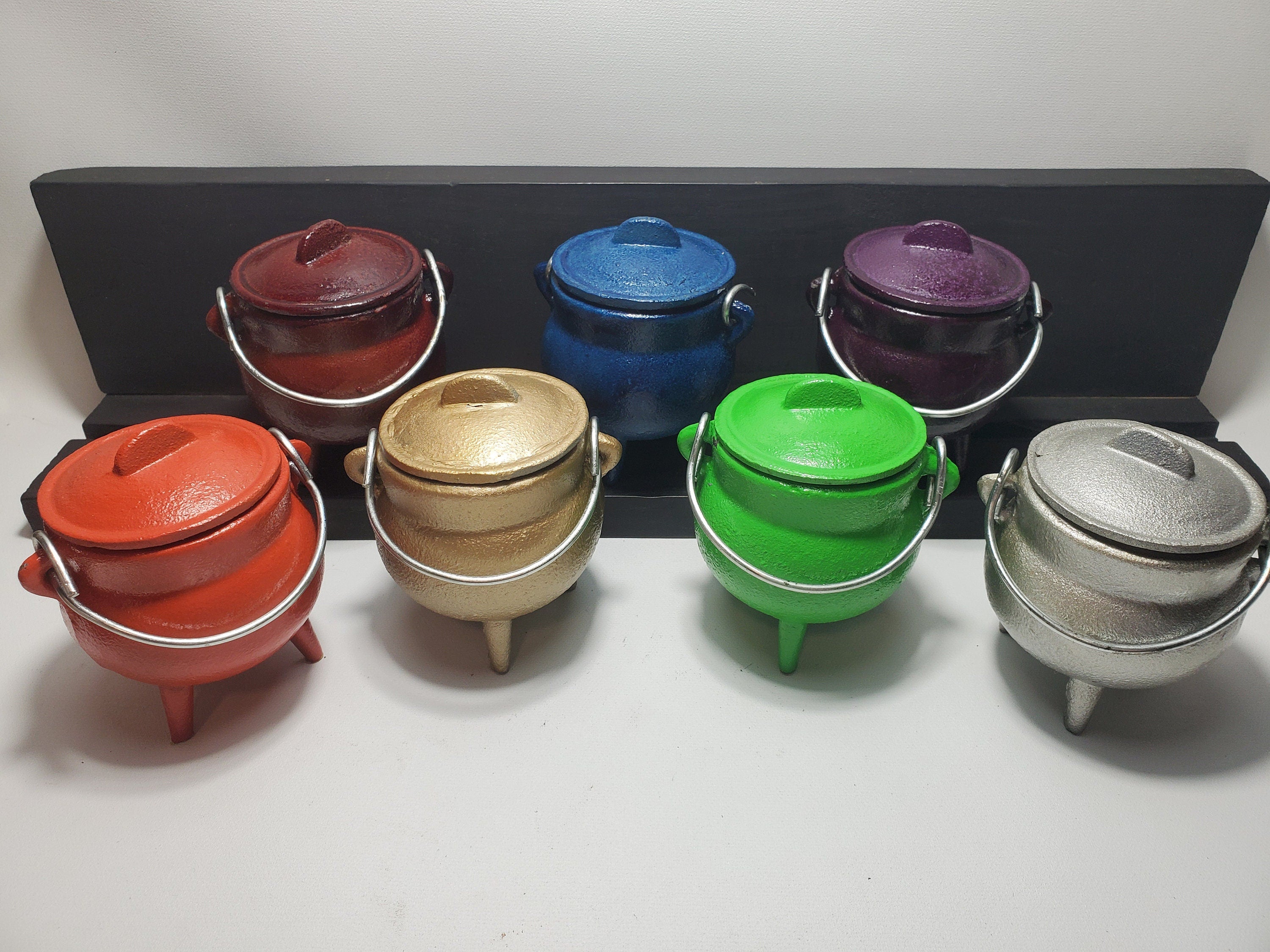 The new style will be the Triquetra and the Plain at this time

We paint these cast iron cauldrons when the order is placed. It takes two days for these to be painted and dried. The paint on these cauldrons can withstand temperatures up to 500 degrees. They are tough and can handle almost any task needed of them. Please be aware that the paint can chip, the iron underneath is a gunmetal color.

There are many colors and cauldron styles to choose from in our mini cauldrons. Please indicate color and cauldron style when ordering.

A cast iron cauldron is a metal pot used for magical work. When burning a candle inside it, put a layer of clean sand on the bottom of the pot. The pot should be large enough to hold the melted wax and to burn twigs without being hazardous.
Cast Iron Cauldron Color & Affiliations
Lil Blue Wave (Dark Blue): the Goddess (ritual candle), Water Elemental, impulse, truth, dreams, protection, change, meditation
Hazy shade of Purple: Power, Spirit, Spiritual development, intuition, ambition, healing, wisdom, progress, business, spirit communication, protection, occultism, self-assurance, influence higher-ups
Green Pasture: Lord and Lady of Wild Wood, Earth Elemental, herb magics, Nature magics (ex: garden blessing), luck, fertility, healing, balance, courage, work, prosperity, agriculture, changing direction or attitudes
Silver Linings: The Goddess, Lunar magic, meditation, psychic development, success, balance, wards negativity, astral energy
Craving Blood (Red): Fire elemental, strength, power, energy, health, vigor, enthusiasm, courage, passion, sexuality, vibrancy, survival, driving force, blood of the Moon
Lil Pumpkin (Orange): the God (ritual candle), strength, healing, attracting things, vitality, adaptability, luck, encouragement, clearing the mind, dominance, justice, career goals, legal matters, selling, action, property deals, ambition, general success
A Touch of Gold: The God, Solar magic, Solar energy, power, achievement physical strength, success, skills sought, mental growth, healing energy, intuition, wealth, divination, safety, winning power, happiness, playful humor
Sunshine Yellow: Air Elemental, divination, clairvoyance, mental alertness, intellect, memory, prosperity, learning, changes, harmony, creativity, self-promotion
Cast Iron Cauldron Style
Plain
Triquetra:
Pentagram
Triple Moon