Large Cleansing Kit by Madam T's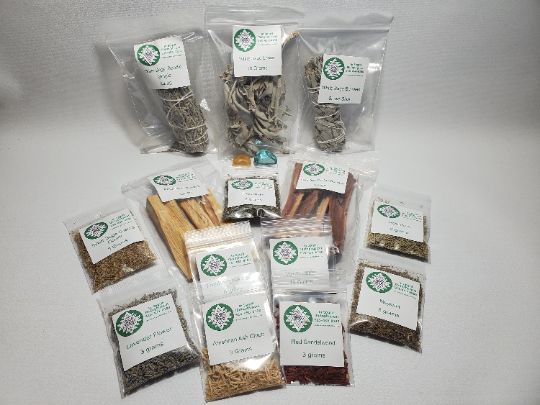 This is a larger version of our original Cleansing Kit.
Loose White Sage: Purification, Banish Negativity, Healing
Blue Sage Stick: Protection, Purifying, Exorcism
White Sage Stick: Purification, Banish Negativity, Healing
Myrrh Resin: Protection, Healing, Consecration
Frankincense Resin: Protection, Cleansing, Spiritual Awareness
American Ash Chips: Protection, Prosperity, Sea Rituals
Large Palo Santo Bundle: Protection, Healing, Cleansing
Large Gnarled Cedar Bundle: Psychic Powers, Purification, Protection
Peppermint: Purification, Sleep, Psychic Powers
Silver Sage Seed & Flower: Protection, Smudging, Grounding
Lavender Flower: Love, Protection, Sleep
Red Sandalwood: Love, Cleanse, Negativity
Mugwort: Protection, Spiritual Journey, Visions
Rosemary: Protection, Love, Exorcism
Blue or Black Obsidian (Depending on what we have in stock): Grounding, Protection, Healing
Citrine: Chakra Cleanser, Emotional Balance, Abundance
How To Sage Your Home
Burning sage allows the removal of most negative energies and experiences from the room—work one room at a time. Start by opening the windows and doors to provide negative energy to escape. Light the sage smudging stick until it begins to emit smoke. Keep your intentions in mind as you make your way through the home, moving in a clockwise direction moving through the house. Continue until peace and love begin to fill the home while sending the negative energies away.
Sage has many spiritual and health benefits and efficient uses; it leaves a lasting, lovely scent around the home. Are there any spots in the house that tend to stink? Perhaps a well-used carpet, a litter box corner, or the area around items like garbage cans? Clean them with a sage smudging stick and leave them smelling fresh for several days or even weeks.