Tree of Life Incense Burner is a Must-Have Altar Piece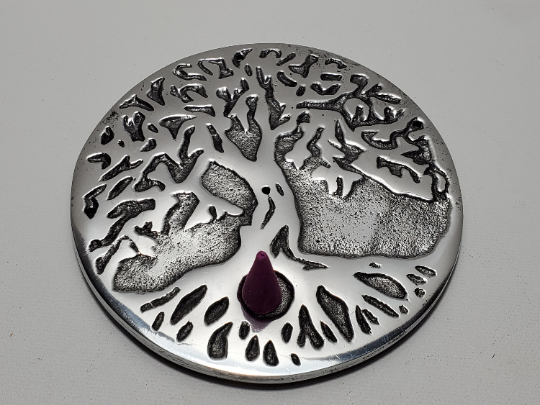 This incense burner is approximately 4 inches across and is made of metal. Stick or cone incense can be used.
The Tree of Life, sometimes referred to as the World Tree or the Tree of Knowledge, appears in the mythology and folklore of cultures worldwide. Tree of Life definitions varies slightly from culture to culture. However, they all share a common theme: a mystical tree links the physical and spiritual worlds. In addition, the Tree of Life is foundational to supporting all life.
Peoples as diverse as the Vikings, ancient Egyptians, Celts, Native Americans, Jewish mystics, and others told stories of a Tree of Life. Essentially, the Tree of Life helped explain the divine plan of how people got here and how they should conduct themselves on Earth.
In Nordic mythology, the Tree of Life is sometimes referred to as the Viking Tree of Life. However, Nordic people-of-old called it the Yggdrasil Tree. The tree was massive and grew out of the Well of Urd, an endless pool that held universal wisdom and other powerful cosmic forces.
The ancient Celts also had a Tree of Life, which many historians believe was inspired by the Yggdrasil Tree. Like the Aboriginal Australians and other ancient cultures, the Celts were animists. They believed the natural world was interconnected and that spirits inhabited everything, from trees to rivers, lakes, mountains, and animals.
The Egyptian Tree of Life dates back to 3150 BC or earlier. According to Egyptian mythology, after the world was created, the God of the Earth, Geb, and the goddess of the sky, Nut, gave birth to a son, the God Osiris. He became the first ruler of the world. Afterward, other gods were born, including Set (Osiris' brother) and Isis, who became his wife.
In Africa, the baobab tree is the closest association with a Tree of Life. Creation stories throughout the continent attest that God created the baobab tree. These massive trees pre-date human beings, so there have been baobab trees as long as people have lived in Africa.