Madam T's Allergy Relief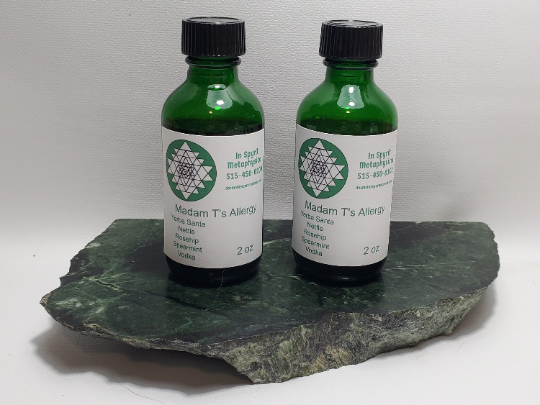 This tincture allergy relief was created to help aid in the relief of allergy symptoms. We do not claim that this will cure allergy symptoms only that it will aid in relieving the severity. 
Ingredients in this allergy relief tincture are natural organic herbs in an alcohol base. The dosage is 10 to 20 drops of the tincture up to 3 times per day. Mix the drops into any beverage 1 oz of the beverage is all that is needed.
This product contains:
Yerba Santa
Nettle Leaf
Rosehip
Spearmint
Alcohol
We do not recommend using this tincture on children due to the alcohol base. This allergy relief tincture can be made with vegetable glycerin as well. Please note that these items take time to infuse properly, so orders for these items will take longer to process. If the item is low in stock we will let you know the date the next batch will be ready. The infusion process can take up to 6 weeks.