Madam Ts Migraine Pain Relief Tincture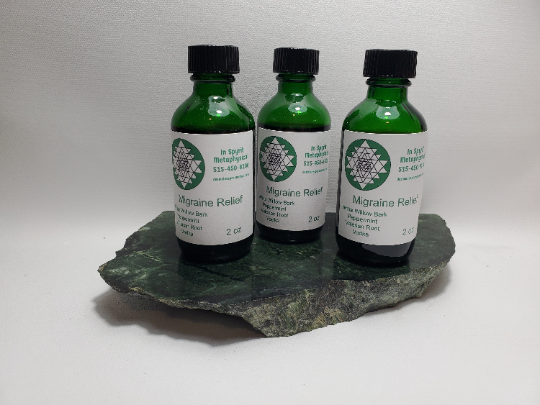 This Migraine Pain Relief Tincture is a tincture to help aid in the relief of headaches and may help with Migraines. Two members of this shop have tested it, and the results were very positive. It is not an instant relief of symptoms, but it does help diminish the pain associated with headaches.
Ingredients in this Migraine Pain Relief Tincture are natural organic herbs in an alcohol base. The dosage is 10 to 20 drops of the tincture up to 3 times per day. Mix the drops into any beverage 1 oz of the beverage.
This product contains:
White Willow Bark
Peppermint
Valerian Root
Rum or Vodka (Your Choice)
White Willow Bark has been used as a pain killer in the past and according to the National Library of Medicine White Willow Bark is used in folk medicine for the treatments of acute and chronic inflammation, pain, infection, and fevers. The National Library of Medicine even states that White Willow Bark is devoid of serious adverse events compared to aspirin.
Peppermint can be found in the National Library of Medicine and is promoted for use in assisting against IBS, digestive issues, sinus infections, headaches, the common cold, joint aches and more.
Valerian Root is listed in the National Library of Medicine for use in assisting with insomnia, anxiety, depression, menopause symptoms, PMS, and headaches.
We do not recommend using this migraine pain relief tincture on children due to the alcohol base. This tincture can be made with vegetable glycerin as well. Please note that these items take time to infuse properly, so orders for these items will take longer to process. If the item is low in stock, we will let you know when the next batch will be ready. The infusion process can take up to 6 weeks.
We strongly recommend that consultation with a doctor is done before using any herbal remedies such as the Madam T's Migraine Pain Relief Tincture. Some herbs have been known to counteract medications.