Ultimate Healing Stone Kit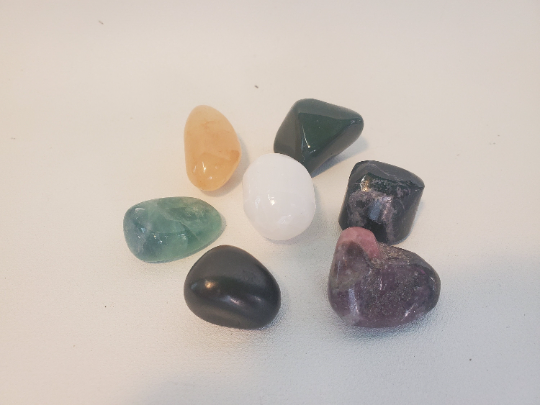 The Ulitmate Healing Stone Kit is one that we put together for healing and protection.
The Golden Healer: This is an all-around master healing stone for physical, mental, emotional, and spiritual healing.
Selenite: The immense energies of Selenite know no boundaries when it comes to the restoration of our auric field and spiritual body.
Fluorite: This powerful crystal is an absorber of negative energy, specifically within one's aura and mind.
Shungite: Assists in cleansing, healing, purification of the mind, body, and soul.
Bloodstone: Activates our inner strength, willpower, and courage that has been masked by fear. This crystal is a purifier of our negative energies.
Lepidolite: Has softening energies that can affect the emotional body and keep the mental state operating calmly. Our entire chakra column becomes activated and aligned when holding or connecting with this stone.
Black Tourmaline: This stone acts as a negative deterrent by cleansing and protecting your auric field. The purification that Black Tourmaline provides is perfect for anyone struggling with anxiety, anger, and unwanted thoughts.
*Toy Mouse Cat Toy Not Included - Used to show approximate size of stones included in the Ultimate Healing Stone Kit :-)