Metaphysical Properties of Arrowroot Powder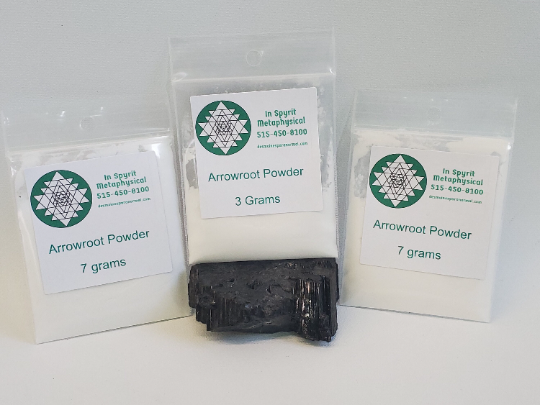 Planetary Association: Jupiter
Gender: Feminine
Element: Water
Deities: Oshun, Yemaya
Magickal Uses and Folklore of Arrowroot Powder
Arrowroot Powder is used for Good Fortune, Shows Opportunity, Purification, cleansing, healing. Arrowroot Powder will increase good luck and bring new opportunities to your attention. The mashed root is said to be an antidote for arrow poison, as well as poisonous insect stings (scorpions and spiders), and gangrene. Loose incense consists of dried, powdered ingredients. Ingredients described for powders may be combined with cornstarch, arrowroot powder, or rice powder to create a dusting powder. I make my magical powders in my home kitchen, using organic herbs from my garden, and scenting them with my handmade magical and ritual oils. Making powders is a delicate process, but a little goes a very long way.

It has been used in VooDoo for gambling and luck spells... So it is not just for cooking.
Arrowroot Powder has been used for spells and rituals for purification. The herb Arrowroot Powder is known for having been used in witchcraft for spiritual cleansing. Charms and sachets can contain Arrowroot Powder for attracting money or for reversing ill luck.
Many different teachings use Arrowroot Powder for improving luck and to attract prosperity. Arrowroot Powder can be used with other herbs to create a herbal mix for luck or prosperity. The typical herbs that could be mixed with Arrowroot Powder are: Mint, Jasmine, Chamomile, Spearmint and Peppermint. For creating a sachet using Arrowroot Powder and some of the herbs for luck you could also add a stone or two. The three typical stones we usually sell for luck are: Pyrite, Dalmation Jasper and Golden Tiger's Eye. Any Green stone could be used as they are commonly used for luck and prosperity.
One of the historical uses for Arrowroot Powder was the use in treating arrow wounds.