Black Tourmaline Infused Protection Oil with Sunflower Oil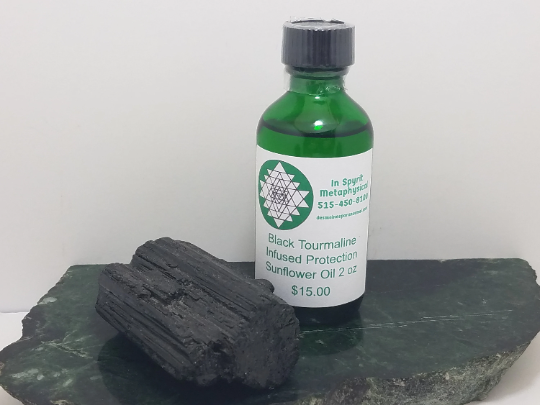 This Black Tourmaline infused Protection Oil is a magical protection oil to keep yourself safe from psychic and magical attacks. This magical blend includes Vetiver and Tea Tree Oil and can be used around your home and property, your car, or on people, you wish to protect.
NOTE: As with anything used on the skin, these oils may cause allergic reactions. Please use caution when using these oils; make sure that you are not allergic to anything that these oils contain. All of these mixes are available in the different base oils. We will also be expanding the carrier oils for all of our oil mixes.
This Black Tourmaline Protection Oil contains:


Tea Tree Oil - Astringent, Anti-Fungal, Insecticide, Anti-Inflammatory, Breaks Hexes, Filters out Negative Energy and Vibrations
Citronella Oil - Excessive Perspiration, Fatigue, Headache, Insect Repellent, Oily Skin
Sandalwood Oil - Journey Work, Calming, Anti-Anxiolytic
Pine Wild Scotch Oil - Antimicrobial, Antiseptic, Antiviral, Diuretic
Vetiver Oil - Love, Hex Breaking, Luck, Money, Anti-Theft,
Rosemary Oil - Protection, Love, Lust, Mental Powers, Exorcism, Purification, Healing, Sleep, Youth
Sunflower Oil - Fertility, Wishes, Health, Wisdom
Tourmaline chips - Protection, Grounding, Calming
Metaphysical Properties of Sunflower Oil
Official Name: Helianthus annus
Other Names: Corona Solis, Marigold of Peru, Solo Indianus
Gender: Masculine
Planet: Sun
Element: Fire
Metaphysical Properties: Wishes, Health, Wisdom
In Native American symbolism, the sunflower is used in late summer festivals to symbolize bounty, harvest, and provision. It is a symbol of the sun and the life-giving force of the Great Spirit. The color of the sunflower was known for its vitality and symbolism of energy and fertility. It has a very positive energy that brings good luck and prosperity. 
Black Tourmaline Protection Oils have been used as a shield against negative energy.